Kuala Gandah Elephant Conservation Center
This is the story about our one day visit on a friday (sept. 2011) to the Kuala Gandah Elephant Conservation Center whilst I was back in Malaysia. It used to be known as "The Kuala Gandah Elephant Orphanage Sanctuary". We decided to stop by on the way back to our home in Johor, after our now "once every 2 years" visit to the Perhentian Islands. Yes I will put up a post on that when I get the time.
It was a sweltering hot Friday afternoon when we got there after a two plus hours drive from Kuantan. For starters, this elephant sanctuary is located in the state of Pahang in Malaysia. It's quite out of the way, in a small area called Lanchang. Well it does have to be out of the way, since elephants do need more space than us puny little humans. The only sensible way to get there is by vehicular transport, road conditions there are medium to poor depending on weather.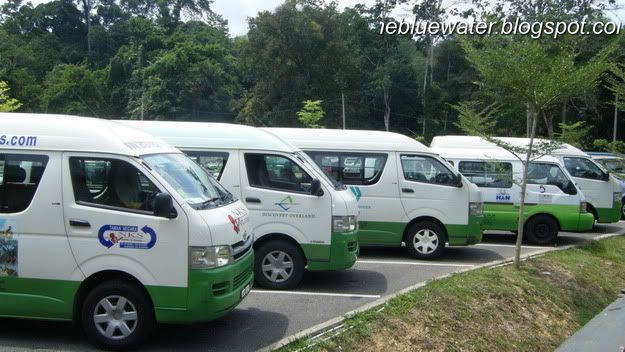 Private Tour Vans
Well driving into the place with my 4 wheel drive, I didnt know what to expect. We were greeted by a huge extrance sign with a guardhouse behind. I was worried that we might have to register or something but there was no one in the guardhouse and the gates were open. So we drove in and passed by the main facility building before getting to the parking lot. As you can see, there were already a long long line of tourist vans. These private company vans bring tourists in from Kuala Lumpur and get their own "VIP" parking lots just next to the main building entrance. The parkign lot itself was quite large and whilst we manage to find a slot there, it was uncovered and in the noon malaysian sun, baking hot is the only thing I could think of.
Since it was still early, we decided to drive around outside and finally found a nice cool shaded spot right next to a canteen. That was probably the only drinks and food place open to public in the area. Prices there are quite reasonable.
Registration Counter.
At the entrance of the main building there is a counter where you have to register your visit. Car park and Entry were free. Upon registration you will get a visitor's sticker which you can slap on whichever body part you feel is most exposed. There is a class discrepency here. If you travelled with a private tour company, they would have got you booked in with a yellow 'B' class visitor pass which allows you to ride an elephant around a track. Otherwise you get a normal red 'A' class. More on this in Part 2.
Inside the main facility building, we got to learn more about elephants from various exhibits and displays.
Take Home Elephant.
Elephant Stamps.
This place has a stamping station where you can get a few souvenir prints in a scrapbook, that is if you had brought one. Just like the stamps we encountered whilst travelling in Taiwan. Wifey promptly whipped out her book and chopped away..
Elephant Food
We also found out that Elephants eat a lot...
Elephant Water
And also Drink a lot...
Comparing Mammoth, African, Asian Elephants
Elephant figures were not to scale. A comparison of ancient Mammoth elephant size to African and to the smallest Asian elephants. If this was to scale I would probably be only as tall as the Asian elephants leg. I was once again reminded how short I was.
Elephant Bones.
Everyone's favourite elephant head bones exhibit. Dentists will be delighted to know that elephants use up six sets of molars in their lifetime. I wish I had at least a second set of teeth, no need to worry about tooth decay too much then...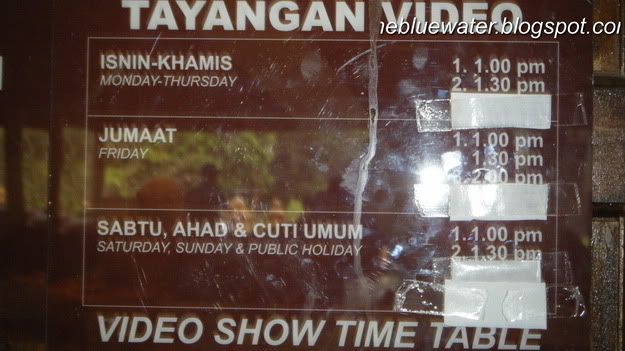 If you had enough of elephant education outside, you can enter a nice cool air-conditioned mini theatre for a short video. Timing as in the picture.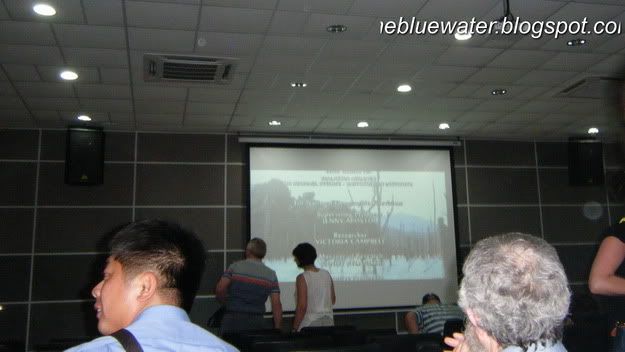 I loved the inside of this room, they really spent good money setting this up. There were also HUGE LCD screens outside that ran informational short clips about elephant conservation. The short video on the work of the sanctuary was also quite informative and interesting. After this it was time to get out in the heat again...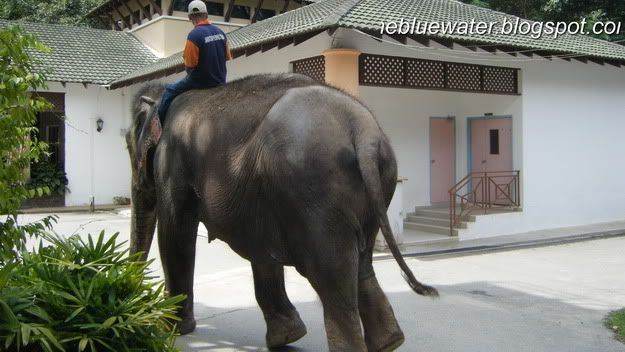 Elephant preparing for show.
Saw this wandering by outside the gift shop where we bought some nice elephant T-shirt souvenirs. Other than souvenirs, they also sold ice-cream/pops. A sign of the activities to come, this got us a little more excited... Please join me in Part 2 of this exciting visit later!
Helpful websites used to organize this trip....
MyElephants.org