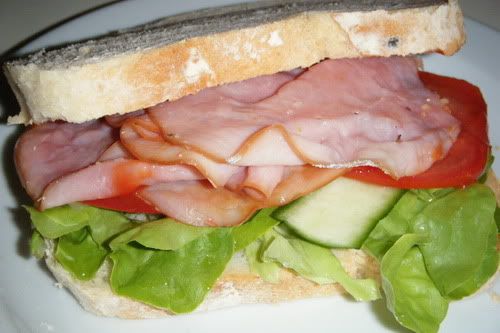 Had a home made ham sandwhich for lunch today. Made of sourdough bread, ham, ketchup, some lettuce, tomatoes and cucumbers. Easy but very yummy. had 2.
In Australia, people call their annual car registration REGO. As my car has been sitting in it's nice little garage for almost a year now, I had to renew its registration papers by mid-Jan 2010. So went down to the Parramatta road transport department hoping to renew my rego. They call it RTA here.
Unfortunately they moved, so I had to drive to their new address down at Argyle street, luckily I could park easily and for free at the nearby Westfield shopping center. First counter guy told me to fill in some forms to change my address so they could send a replacement form to my new address. So I went off to my old residence to see if I could get the renewal notice that was sent out. Found the new tenant, she had just come back from work. She said she had sent all letters for previous tenants back to sender.
Another trip back to RTA, I filled in the forms there and the next officer lady i got was clever enough to help me renew my registration.. Finally my car will be registered till JAN 2011 yeah! Have to sign up for my Aussie license in the next three months though... boohoo...