About a year has passed since I brought my friends here for a fishing trip. My friend Kwok was very enthusiastic about going there to do some fishing. So after getting our gear together, he drove us down to Stanwell park. Beautiful day after a week of rains, beautiful drive.
We reached Stanwell Park after a short journey. My friend decided to go to a look out place where they have flying lessons. Beautiful view from up there. There's even an ice cream truck.
Well you dont fly planes here. It's actually a take off point for hang-gliding.
And also parachuting. Lots of people there, some enjoying themselves in the air, some like us enjoying looking at those in the sky.
A wierd bug I noticed on a wooden pike.
We finally got down to the rocks for some fishing fun! :D We didnt cath anything today but someone nearby caught this sea eel.
My friend's tiny dog, tired and sleepy after the day out. Slept all the way home.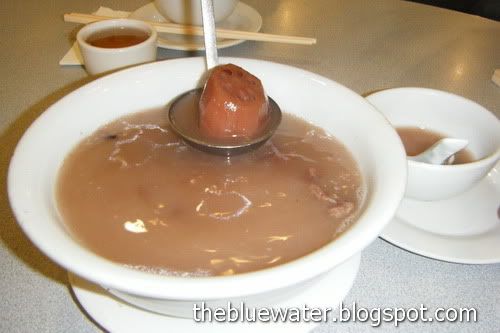 We were so hungry, so my friends quickly ditched the dog at home and we went off to a HK style restaurant in Hurstville. The house soup for tonight was lotus soup. This restaurant standard not as good as the burwood one.
Ordered a 4 person set dinner. Comes with Steamed farmed barramundi, choice of BBQ meats and 2 dishes from the a la carte menu. all for $53.80.
We had soy chicken and roast duck. Average.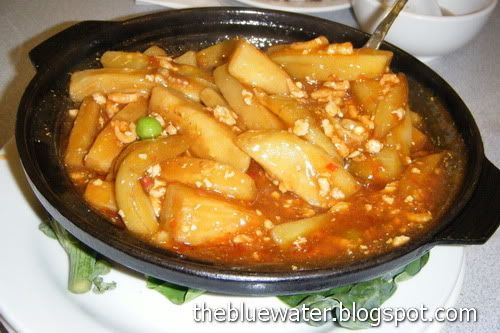 Steamed Brinjal dish , quite good.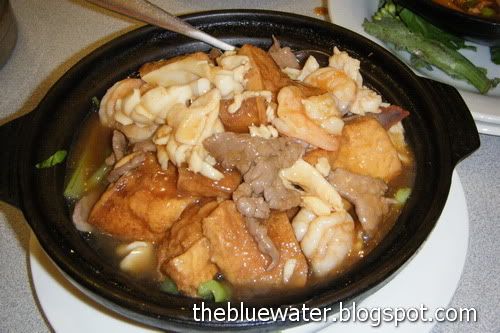 Tofu hotpot with seafood and beef mix. I am really starting to detest the preperation of meat at chinese eateries. I think they put some sort of wierd tenderizing agent. The meat and seafood all end up soft and crunchy but completely loose their natural texture!
Well what a long and tiring day, all in the name of good fun!