Welcome back to the final part of my trip to the Steve Irwin Australia Zoo!!!
What can I say except that halfway through the day we got hungry and went down to the eating area place to get some food to eat. Food on sale here is not very fancy, just some normal cafe kind of food. Wife and me settled for this fish and chips meal which cost only 7.50. The other stuff was much more expensive as expected of a tourist place.
Our american friend had to have a good old american styled hamburger. According to him it was very yummy, even had some strips of bacon in it.
As usual my super health conscious sis who was freezing settled for a vegetarian burger. Which I suspect wasn't very good.
Back to the zoo animals. This was a cute wombat. They looked like they just woke up...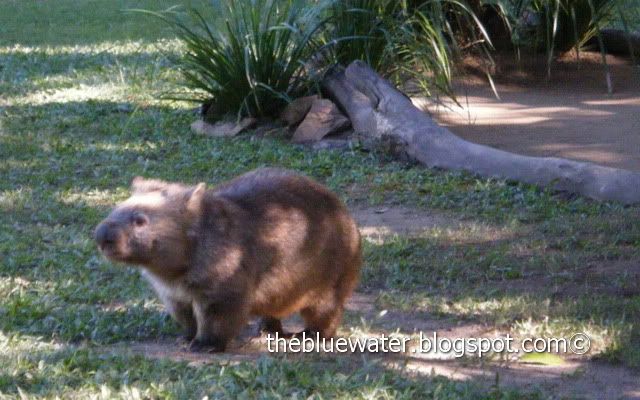 Then after they really woke up the zoo keepers took them fora walk around the zoo, I guess they are like dogs. Can be very stubborn too, sometimes they refuse to walk and the zoo keepers have to carry them back.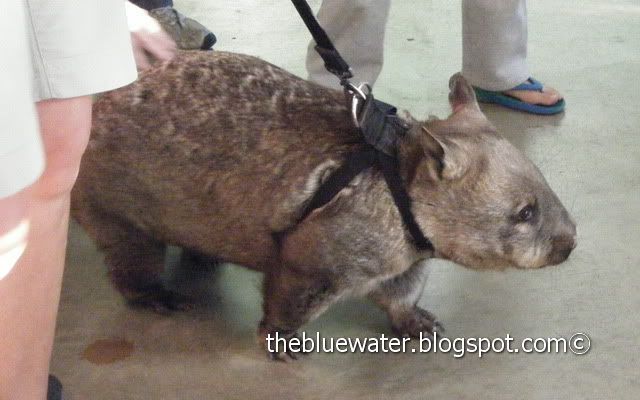 This was a huge emu. It looked at us and not very friendly.
There was this enclosure with many types of birds you go get up close too.
Look at this smiling koala. So cute! We were once again allowed only to rub its butt area...
There was also an animal show at the crocoseum. This was the second show where they had birds like the big macaws from south america and an andean condor! below is a kookaburra not sitting on an old gum tree but on the zoo keeper's hand.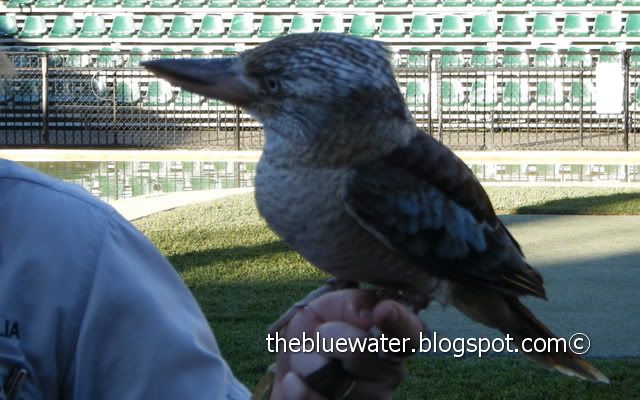 A majestic australian wedge-tailed eagle. Birds like these can sometimes be seen on highway roads feeding on roadkill so when you see road kill in the distance slow down as an eagle might sometimes be there feeding and not fly away in time to avoid your car.
For those who need a ride, there is a tram that brings you to various stations scattered around the zoo. We took it for only a couple stops though. At one of the stops we were so lucky to see them walking a cheetah. The zoo keepers really like walking their animals like pets. You can even pay extra to book a walk with a tiger!! First time I ever saw a real life cheetah! Sad thing is these beautiful endangered creatures may not be around in our world for long...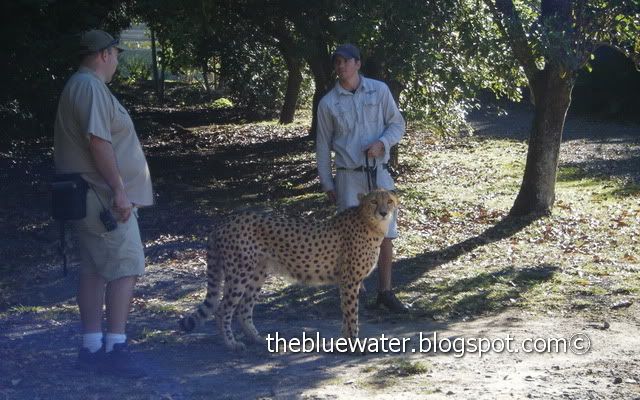 After a fun day at the zoo we drove back to Brisbane. Decided to have dinner back at a Chinese BBQ restaurant I went to before and raved about the char siew / BBQ pork rice. Sis ordered this wonton noodle soup. the noodles were not much good but the wontons were quite big and nice.
The rest of us ordered BBQ pork rice. Unfortunately seems the boss has hired some staff to do the chopping and serving. This time round the pork was not as nice though it was quite thinly sliced like they do in malaysia.. they also put very little rice on each plate this time.. Damn, can't really recommend this place anymore...
But what a good day at the zoo, even though dinner was sub-par we still felt quite happy!