Taiwan Trip 2011 Day 1 : Beginning of an epic trip
This post on my blog is way past overdue, just like oysters which take a year to mature and harvest. As I am having some free time now, I would like to share some of my experiences and knowledge with those trying to plan a trip to taiwan. Hell it took me more than a month to plan this 2 week trip!
[tips 1 : spend less time planning than for the trip itself.]
Yoshinoya Beef Bowl @ Bugis Junction
I was looking for a country to visit September-October last year, for my long winter break where I usually come back to enjoy the warm weather in Malaysia (it is usually pretty cold in Sydney this time of the year). I had initially planned to bring the wife to Japan for a month long trip, what with my fascination with japanese culture. Unfortunately they had the nuclear incident in March 2011, which meant pretty much no Japan for us. Long story short, Taiwan was selected as the place to go.
It was a nice and warm afternoon when we set out for Taiwan (19 Sept.). After taking a taxi from Johor Bahru to Bugis Bus station in Singapore, we went via the underground passageway past Bugis MRT and up to Bugis Junction. As wife was a big fan of the Yoshinoya there we ordered a couple of beef bowls.
As always thinly sliced beef with lotsa onion and pickled ginger and hidden MSG makes for a tasty meal, which is still much healthier than McDs. Unknown to us at that time, this was not to be our only Yoshinoya Beef bowl experience for this trip.
After lunch we headed down to the Taiwan Visitors Association in Singapore. I had read about some freebies (free gifts) that we could pick up. Apparently if you have a valid flight booking/ticket to taiwan, you are eligible for some freebies (more about them below, read on :D)
Apparently they have moved house this year to the new address as below, looks like an upgrade :D
Not sure if they have any freebies this year but I will call and do an update once I find out.
Taiwan Visitors Assn (Taiwan Tourism Bureau-Singapore office)
30 Raffles Place #10-01, Chevron House ,Singapore048622
Office Hour : 0900-1700 (Mon-Fri)
Tel: +65-6223-6546
Fax: +65-6225-4616
website: www.welcome2taiwan.net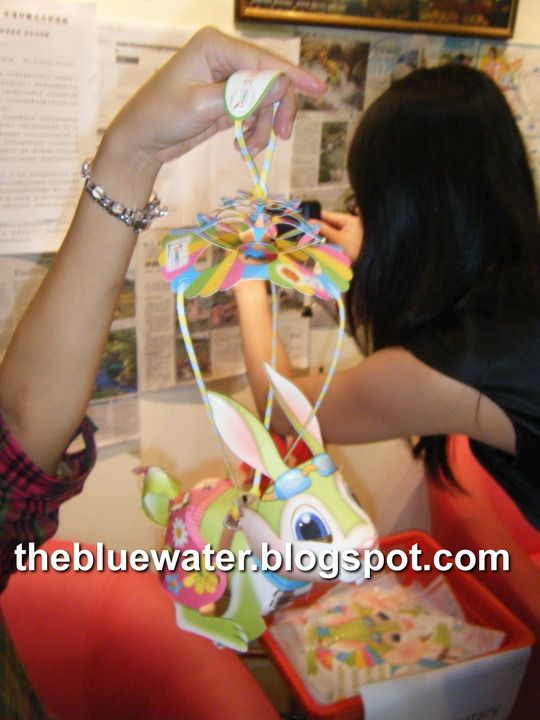 Other than freebies, you can also get informational phamplets and minibooks about Taiwan. This was one of the rabbit lanterns they gave out for the rabbit year.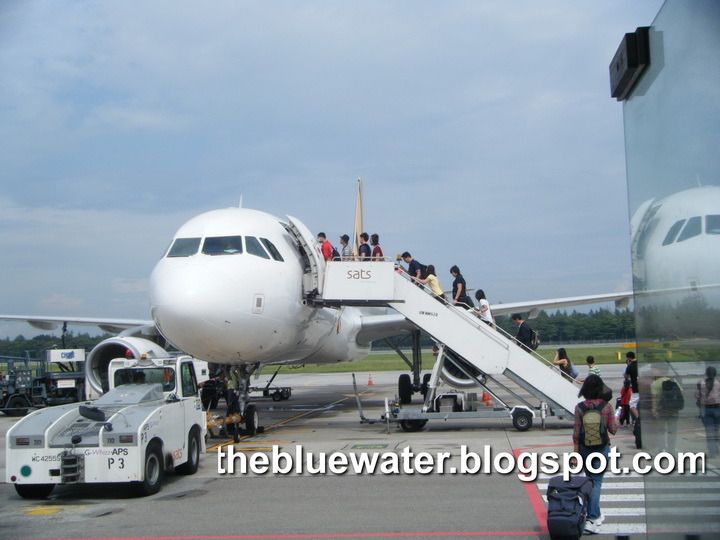 For our journey there we booked a budget flight with Jetstar Asia. They had an asian crew which was really nice. This was actually the first time I have taken a flight where you have to walk out on the pavement to board the plane.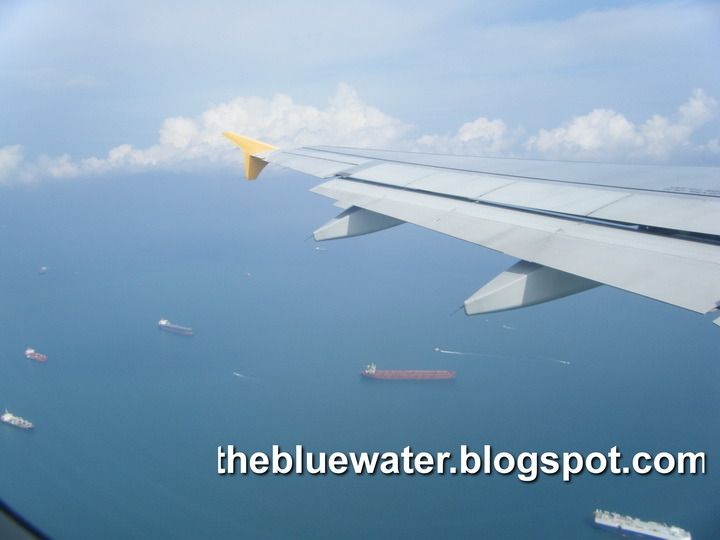 Up in the air! Nice weather for a shot. Lots of container ships waiting outside for a port docking space or for maintenance/supply. Singapore maybe more well known for Changi Airport, but it also ranks as second busiest port in the world for container port traffic, with only slightly less TEUs (20 foot equivalent units) volume compared to Shanghai port in China.
Sunset from the plane. Haha who doesn't like a good lens flare. First time I learnt about lens flare was when I was playing Mechwarriors game on my PC.
NOTE : It is a little bit healthier to travel during the night time as we are exposed to atmospheric radiation equivalent to about one chest x-ray per hour on a normal day flight.So this 4.5hour trip I probably got like 2-3 x-rays worth of radiation.
One of my poorer shots. But this was Taoyuan city by the time we landed. When you buy a plane ticket to Taipei, you actually land in Taoyuan which is a small city about an hours ride from Taipei City center itself. I will add in a plane landing video once I get all my taiwan posts done :D
Finally we landed at Taoyuan airport! Wow actually for me its second time in Taiwan airport for me. But the last time I was here, it was 15 years ago, and only for transit at the airport on my way to Los Angeles USA, so that doesnt really count.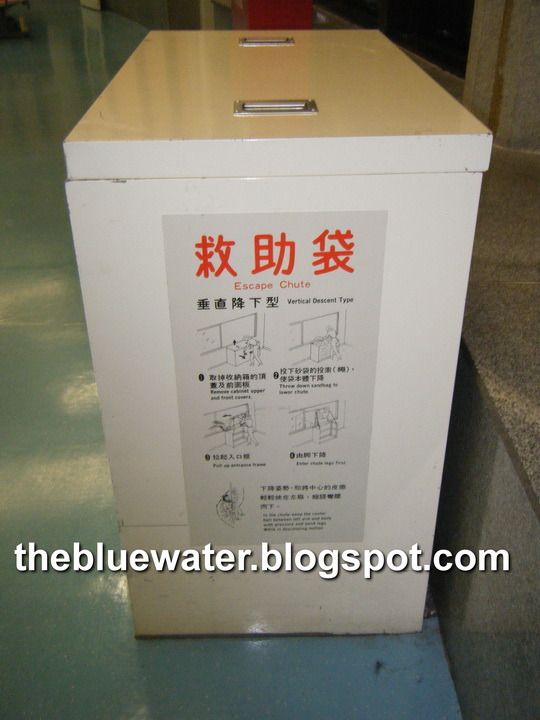 This wierd box seems to be for emergency use, in case there is a bomb or fire, you can use it to fling a plastic chute out and over to the lower ground after smashing the glass windows next to it. Don't know how we would smash those glass panels though, maybe using an emergency fire hydrant?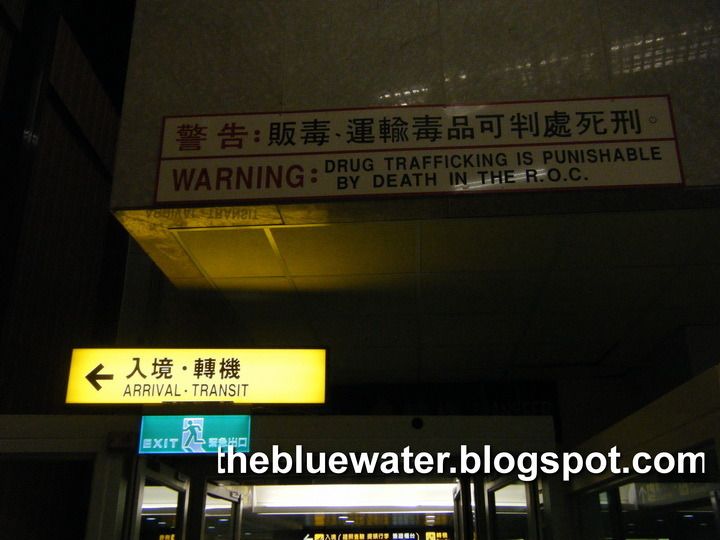 Just like in Singapore and Malaysia, drug trafficking is punishable with DEATH PENALTY... Good job KMT!!! Taiwan may one day change from R.O.C to Taiwan S.A.R just like hongkong though...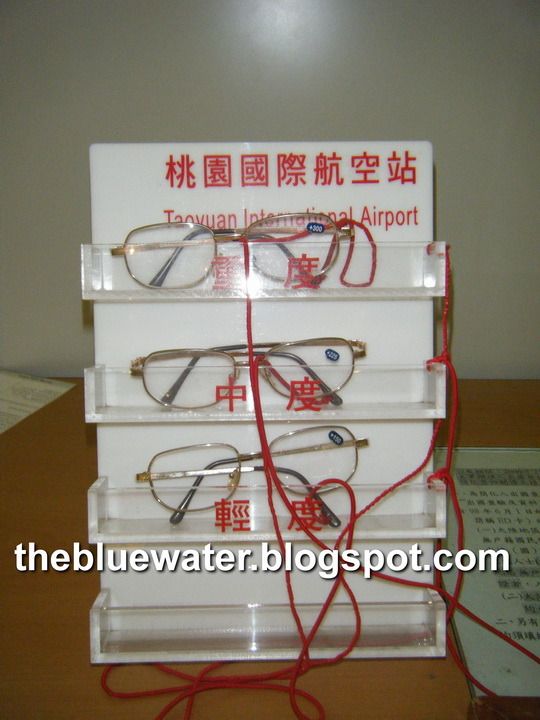 Look how caring the taiwan government is!!! Complimentary spectacles for the elderly with varying degrees of magnification, for filling in your entry forms.
After clearing customs, remember to change money at the BOT(Bank of Taiwan) booth at the airport. It is open 24/7 everyday. The rates are quite reasonable.
Also if the phone booths are open you can get a prepaid sim card with your passport and IC/drivers license. One phone card costs about NTD300 with some value in it. Very useful for calling locals to arrange transport or accomodation. Some even have internet plan for a little more.
As we were trying to be budget conscious we chose this company Dayou CitiAir Bus which was probably a bit slower and less comfortable but only cost us NTD90 per ticket. This bus was not express so it did stop at a couple stops on its way to Taipei. Express buses normally about NTD150 and Taxi usually NTD1000++ to Taipei. If you book in advance, "private cars" can be had for only NTD800 from aiport to anywhere Taipei.
We grabbed our first canned drink from the airport vending machine whilst waiting for BUS.
Taoyuan Airport to Taipei Main Station
Finally we arrived at Taipei Main Station. Impressively big place with some construction going on inside. how come everywhere construction? even the airport terminal was also under construction. This year I will go see how it looks after the renovation.
TAIWAN MEX

Taipei Main Station to Taiwan Mex Hostel by LEGs
Well by the time we reached Taiwan Mex and checked in by the cool owner Raul and his Bro, it was already quite late. These are some pictures of the 4 bedder room we booked with en-suite toilet. As we were staying there quite a few days, they gave us a special rate of NTD900/night. Normally it can be booked for only NTD250 per person sharing.
Rooms here were very basic but totally functional. Air-con, Wifi and LCD with cable. Already loving Taiwan. Electrical plugs there are different from M'sia/Sg one so make sure you have a couple converters in your bag to charge your laptop/phones.
Toilet was clean.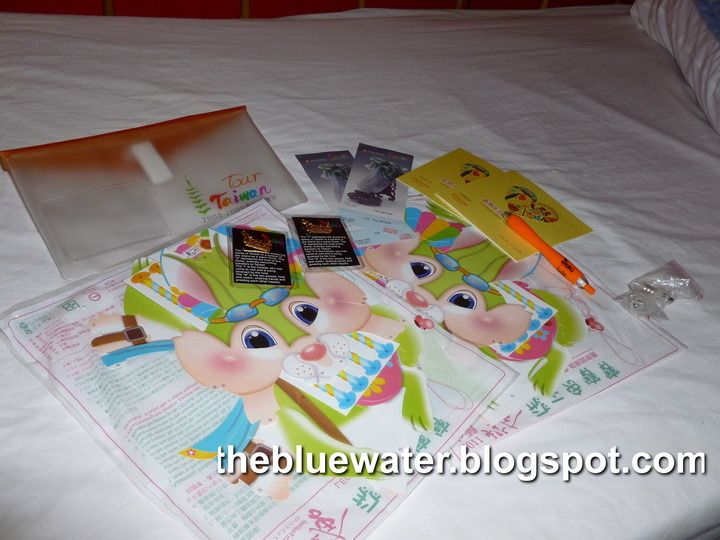 Free Gifts from Taiwan Visitor's Association 2011
These are the unpacked goodies from the TVA. Included were 2 free entry tickets to the National Palace Museum and "Visit Taiwan" pin badges. We also got the vouchers for free gift from departure airport terminal. I will include pic later but basically we got some "I love Taiwan" car number plates.
NINGXIA NIGHT MARKET
NINGXIA NIGHT MARKET
For supper we visited the nearby small Ningxia Road night market. This is a small one street night market. It's only around 5-10mins walk from Taiwan Mex. Night Markets in Taipei normally close quite late about 1am, so you can still usually find a big bite at midnight!
Oyster Mee Sua
This was our first Oyster Mee Sua in Taiwan which wasn't that spectacular. This store also added Pork Colon(large intestines) to their mee sua.
Taiwan Bradwurst German Sausage


We also had some German style Bradwurst Sausages yum..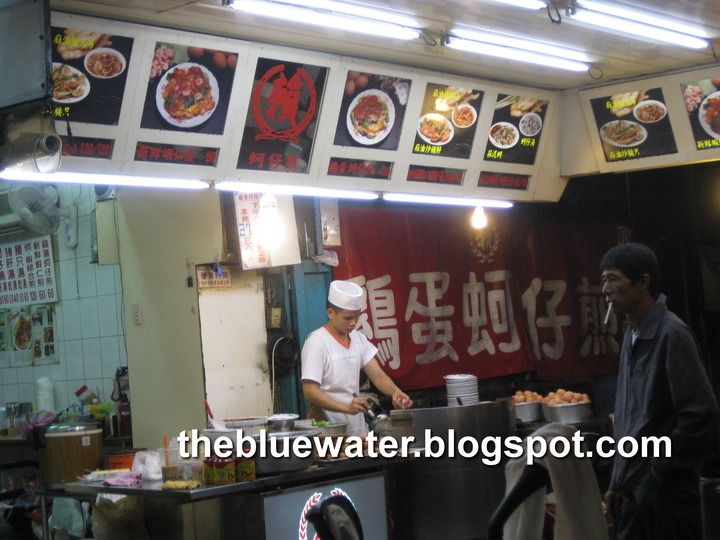 Taiwan Fried Oyster Shop
LUCKY FIND NUMBER 1!
At the end of the night market, we wanted to turn back but just around the corner we spotted this shop selling Fried Oyster Omelet. It was almost full with a local crowd at midnight so we thought must be good rite? We promptly sat down feeling quite excited.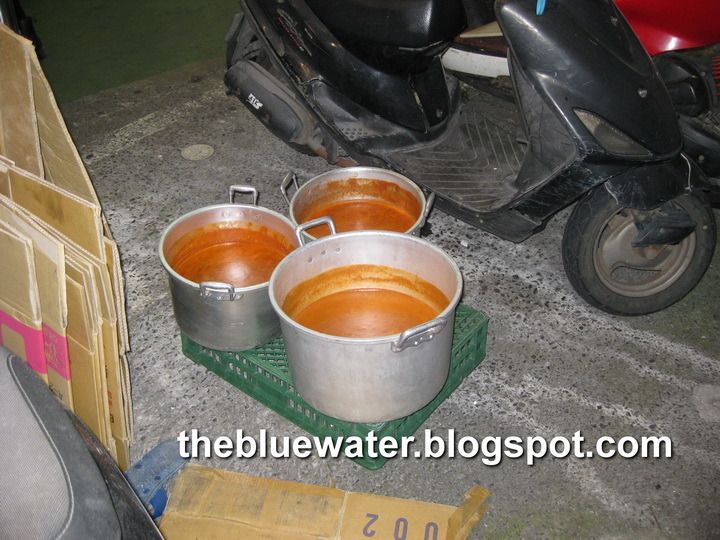 And saw this beside our table. Ok sometimes food preparation is not as clean as we would like it to be. These pots are filled with the sauce they put on the Fried Oyster Omelette. As you can see, it is at the roadside with recycled paper boxes and motorcycles parked beside. At least they elevated the pots with a plastic box.
Fried Oyster Omelette Taipei Taiwan
Big serving NTD60 per plate. In Taiwan they slater on a kind of sweet sauce which we were not used to. Still prefer our local fried oyster omelette with chilli and lime juice.
McDonald's and Kentucky Fried Chicken
On our way back to TaiwanMex we saw this fastfood place and I was pretty amazed. This must be a fast food junkie's paradise! Normally KFC are like competitors with McDonald's. Seems like in Taiwan, food businesses can exist in harmony.
This sign says : "JingSiu girls' high school would like you to synchronize your time"
By the time we got back to the hostel it was way past midnight. Good night Taipei, hope we can wake up in time for more tomorrow....
[ Continue reading
Taiwan Trip 2011 : National Palace Museum