Taiwan Trip 2011 Day 2
: National Palace Museum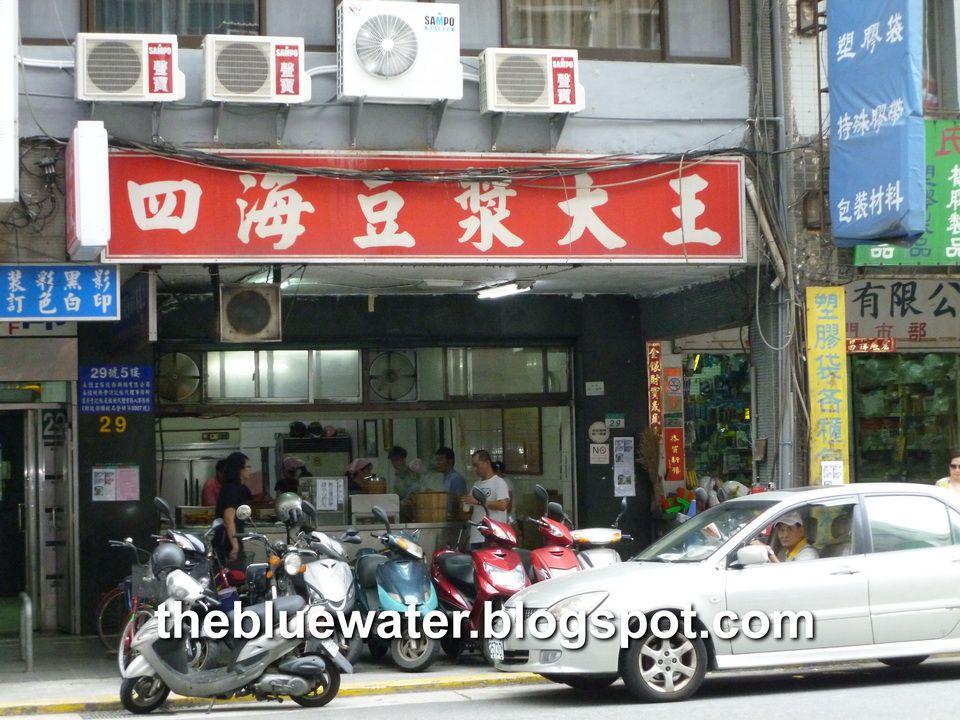 Four Seas Soya Milk King
This is how we started off day 2 of our adventure. How convenient, after taking the lift down 9 floors and walking out from the hostel, just opposite was a breakfast place. We decided to try out this place so crossed the street "malaysian style" and made our order.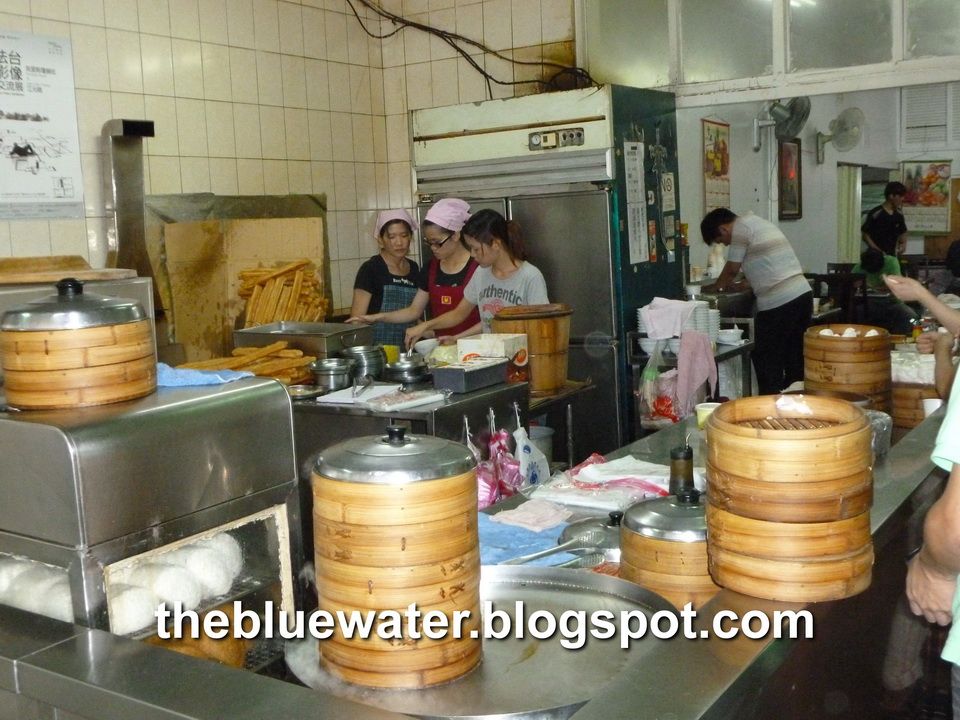 Inside the shop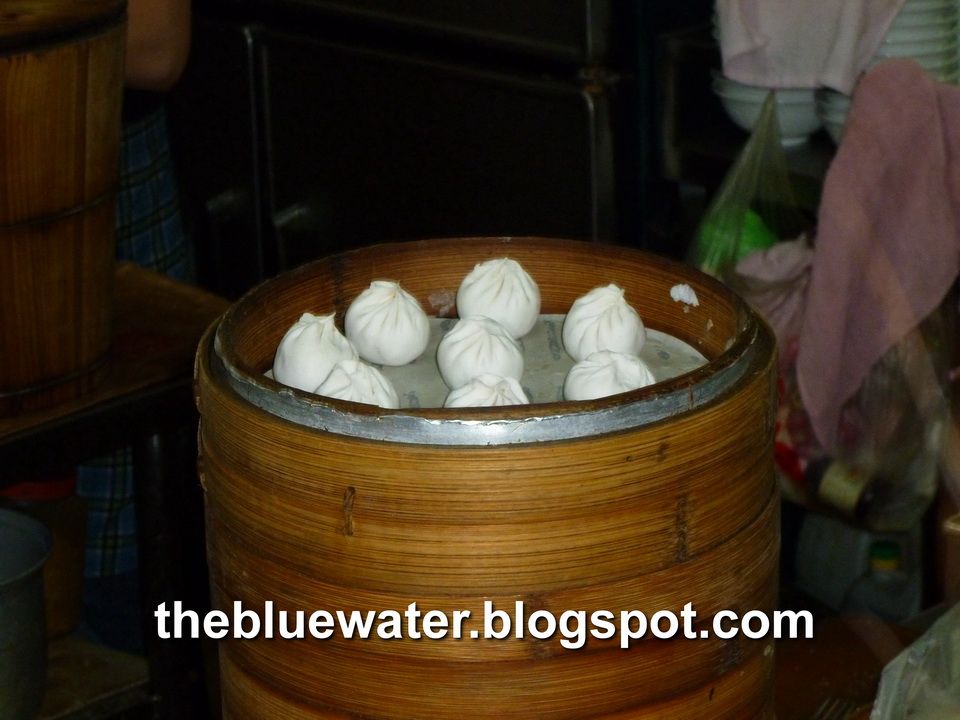 Steamed dumplings
You could sit down and order from a menu which had freshly made steamed dumplings and other breakfast items.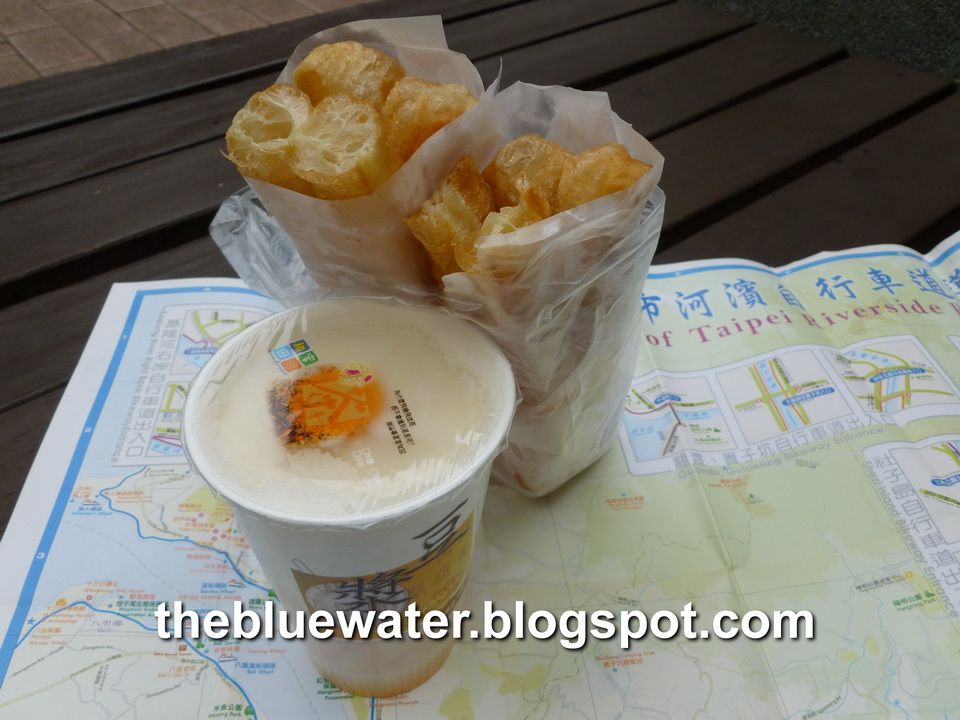 Soya Milk and You Tiao (Fried Bread)
But we made an order for a takeaway, as we decided to walk around the area a bit. This was our Taiwanese breakfast of soya milk and pack of You Tiao (fluffy fried dough).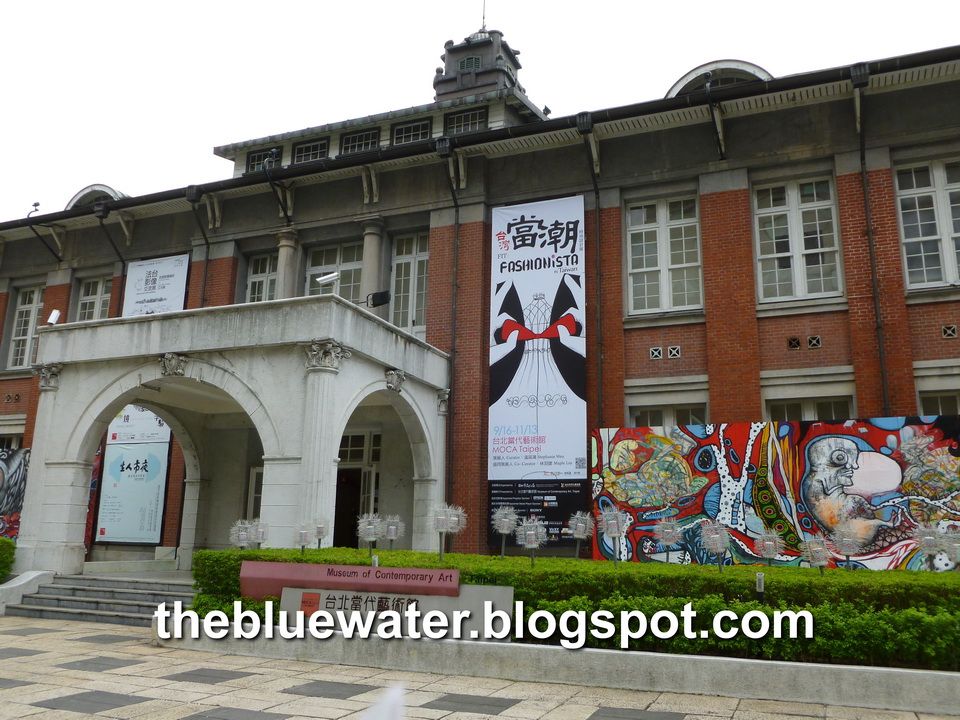 Walking along the road we passed by the Museum of Contemporary Art.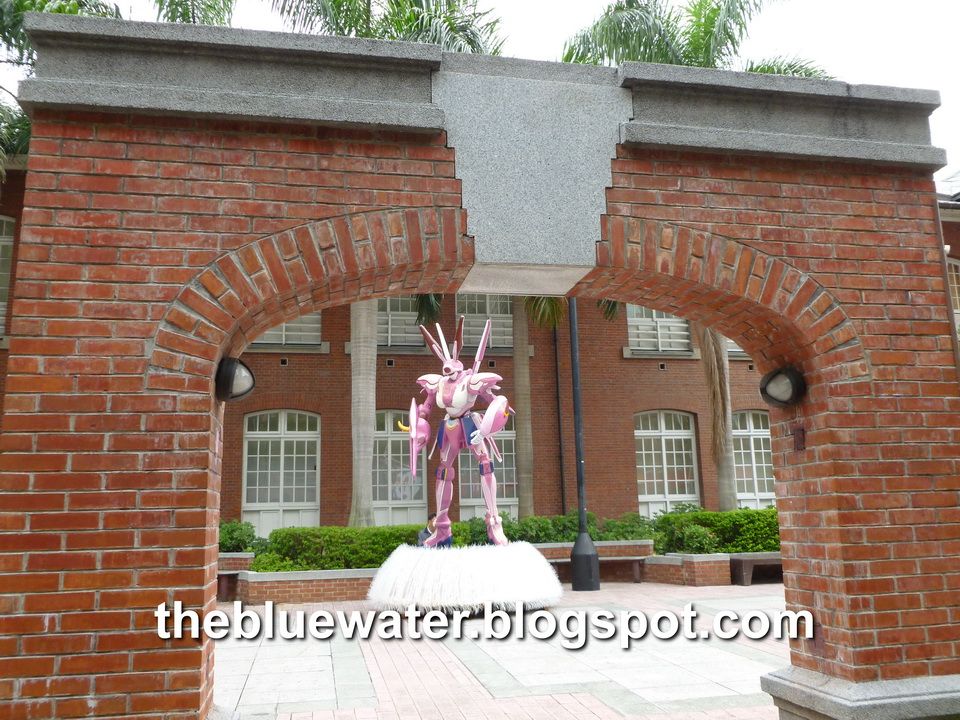 There was a huge Pink female Gundam like figure outside standing on a stand of furry stuff.
We then decided to see where we could change some money and headed to the banks. Passed by maybe the biggest shopping and IT Mall in Taipei? This place was called SHINKONG MITSUKOSHI. There is actually a front counter there which does currency exchange, but only for major currency like USD, GBP, RMB and I think there were 2 more currencies but my memory fails me. Eventually we changed some AUD at a Bank of Taiwan branch after walking around quite a bit and finding out that most banks only do USD.
Note:
If you change money at a BOT branch, there is no fee. You have to pay a small fee at the airport exchange counters. Secret
daily Bank of Taiwan rates here
. I found this link very useful.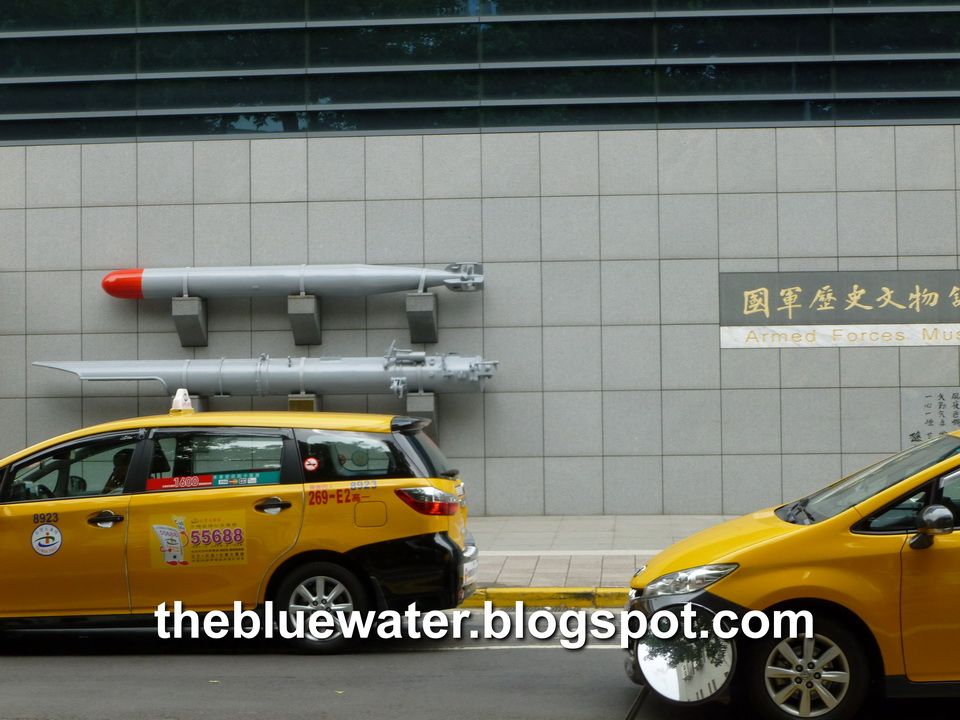 Walking on we passed by the Armed Forces Museum. Notice that they like to use Toyota Wish for taxis which I like, very spacious and lots of cargo space.

Location : Presidential Office Building
Presidential Office Building
Somehow we ended up walking to the Presidential Office Building. This place was crawling with security. The guy in the white shirt was actually pressing his earphone and talking like those FBI people in the movies. Apparently tourists are not allowed to take photos up close but you can still take pictures from across the other side of the road.
Wikipedia : The Presidential Office Building houses the Office of the President of the Republic of China. The building, located in the Zhongzheng District in the national capital of Taipei, Republic of China, was designed by architect Uheiji Nagano during the period of Japanese rule of Taiwan (1895–1945). The structure originally housed the Office of the Governor-General of Taiwan. Damaged in Allied bombing during World War II, the building was restored after the war by Chen Yi, the Governor-General of the Taiwan province. It became the Presidential Office in 1950 after the Republic of China lost control of mainland China and relocated the nation's capital to Taipei City at the end of the Chinese Civil War.
Certainly no lack of guards and soldiers in Taiwan as they have a national service policy like Singapore and South Korea. All young men are to be drafted at some point.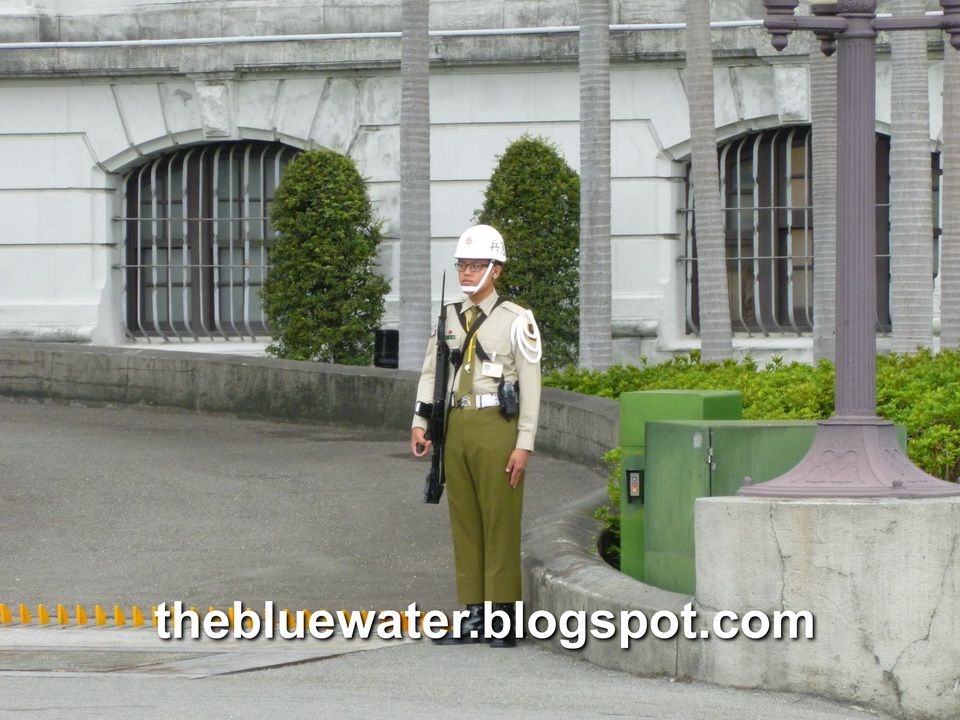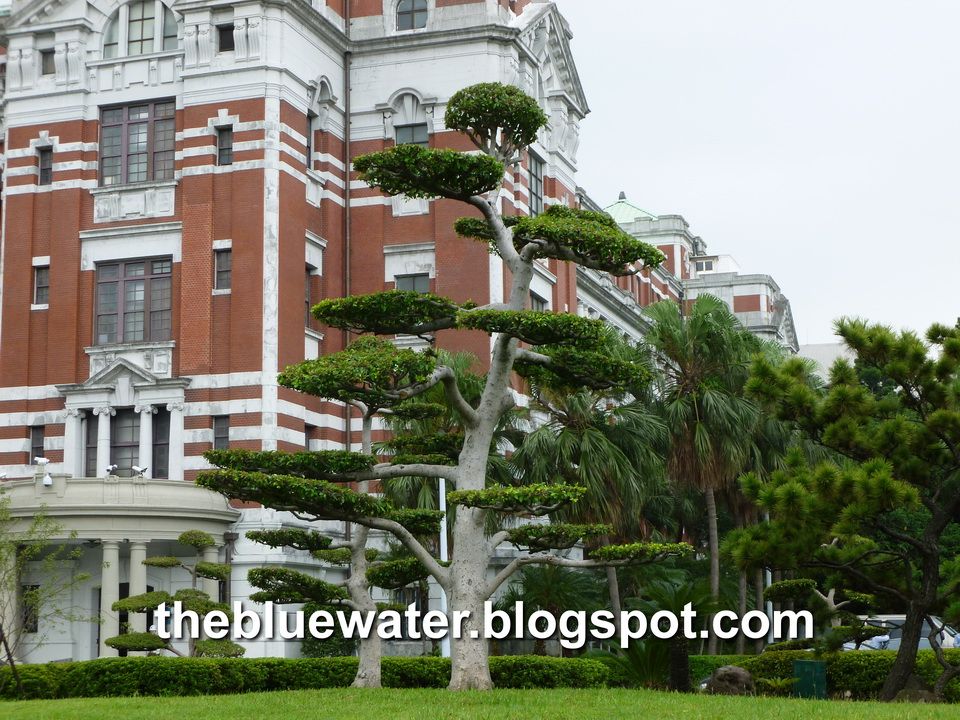 There are some nicely sculpted trees outside. Made them look like giant bonsai plants.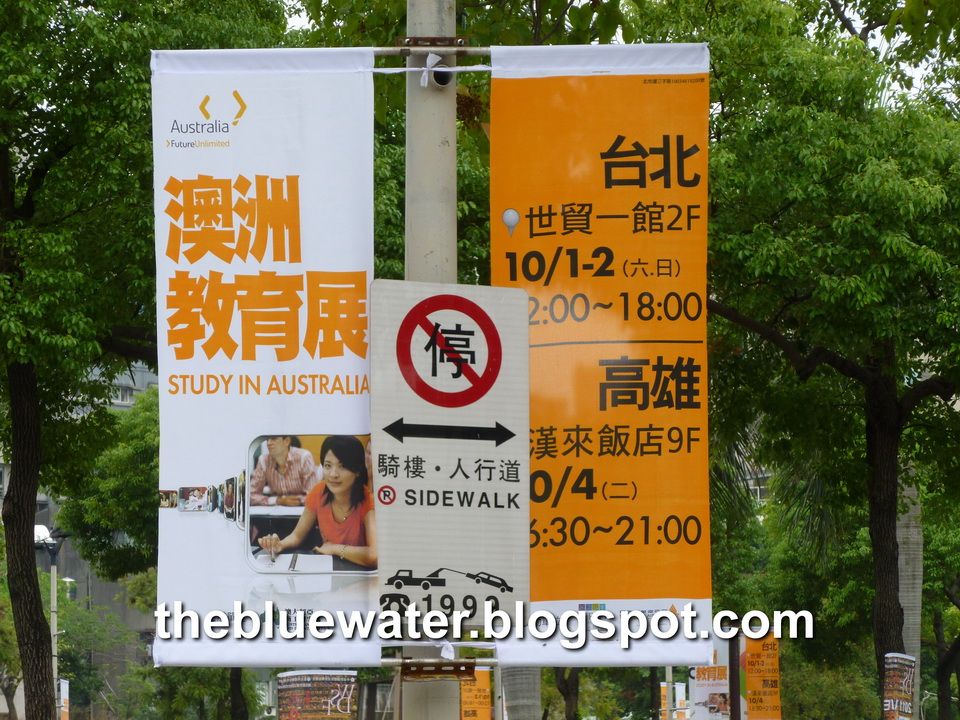 I found these posters very comical. They were hung everywhere along a big section of broadwalk in the city. Seems there is a push for Taiwanese dollars to Australian education as well. This was the kind of posters I would expect in Malaysia hahaha...
After quite a bit of walking we decided to head of to the National Palace Museum to use up the free day passes we had. Went to take the Taipei Metro which links up basically all of Taipei city and surroundings. Makes it very convenient to visit tourist destinations around Taipei.
Tip : Make sure you get your metro card after landing from any convenience shop you see. The card is now no longer refundable with NT100 deposit.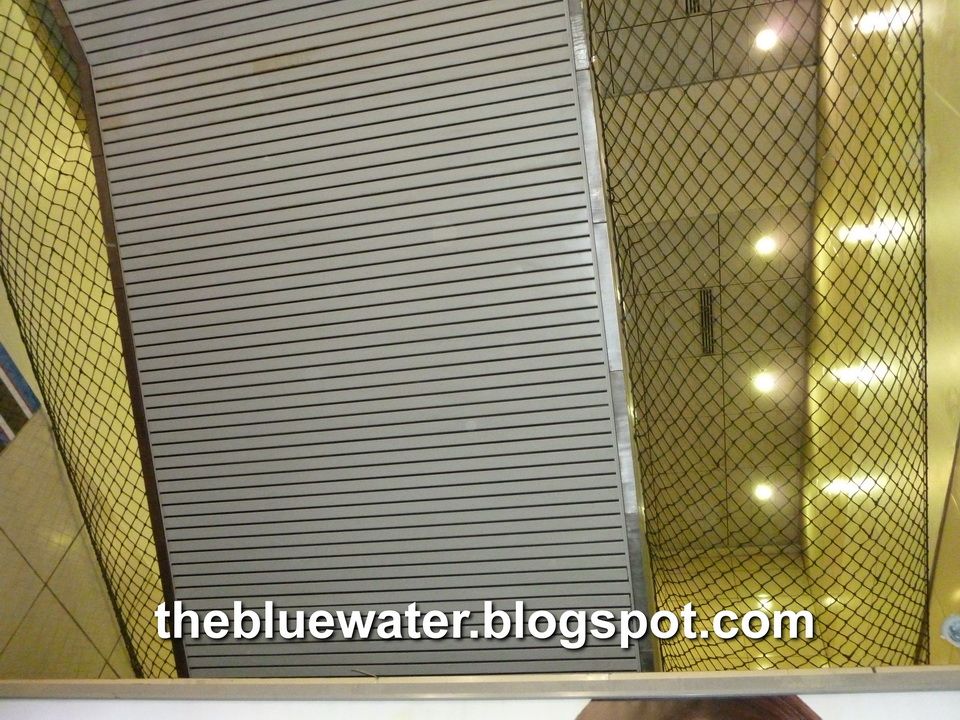 Some netting beside Metro escalator in the interest of passenger safety? Never seen this in Singapore.
Last year's female toilet LED system outside the female loo which provides LIVE information on toilet occupancy and status. I thought it was very high-tech but wait till you see what they have next year...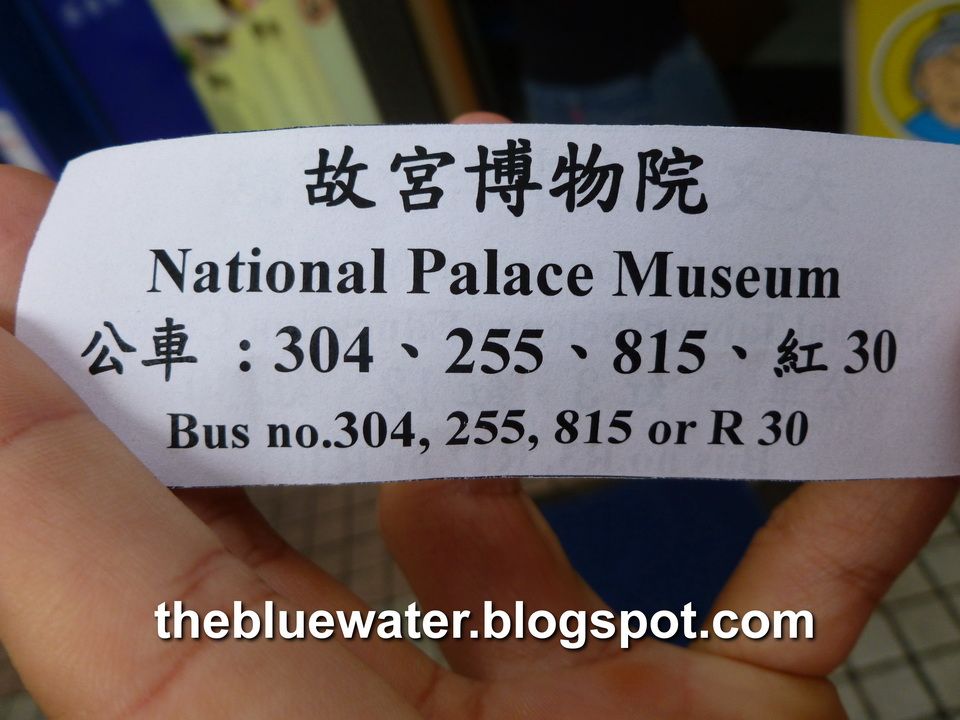 Ok so how do you get there?
Take the MRT Danshui Line to the Shilin Station. After alighting, we asked a
nice Metro station officer in the booth. He gave us this piece of paper with the BUS numbers to take. If you have no legs, R30 is the bus you want, takes you right outside the museum. Otherwise the other buses also stop very nearby.
Bought some handmade taro ball drink from a stall before waiting for the bus.
Location : National Palace Museum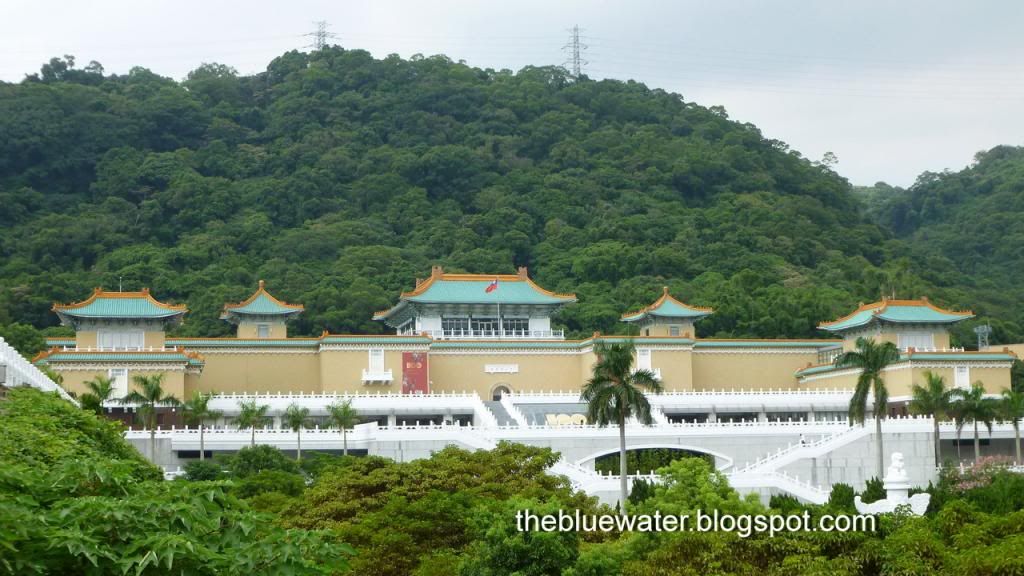 After a short ride we reached the National Palace Museum. The NPM is a huge museum covering 3 levels of exhibits. As you can see the NPM is built into the side of the mountain. According to a staff member, all the hidden treasures that the KMT took from China are hidden in a huge cave complex behind the museum. It also has a much bigger collection of ancient chinese artifacts than its sibling in China.

I was suitably impressed at the exhibits they had. And that is saying a lot, for a person who always thinks that most museums are boring places filled with boring old stuff. Even without the special exhibits that day, it took us almost all day to finish looking at the this museum's detailed chronicle of China's long history. The only other Museum that has impressed me as much was the Natural History Museum in London. But then again that one had fossils of dinosaurs and I am a BIG dinosaur fan.

Yes... I sat at the huge main gate. I think this was supposed to be all made of white marble which Taiwan has a plentiful supply of, especially where we were visiting next,
Taroko Gorge
.
A happy looking confucius greeted us. :)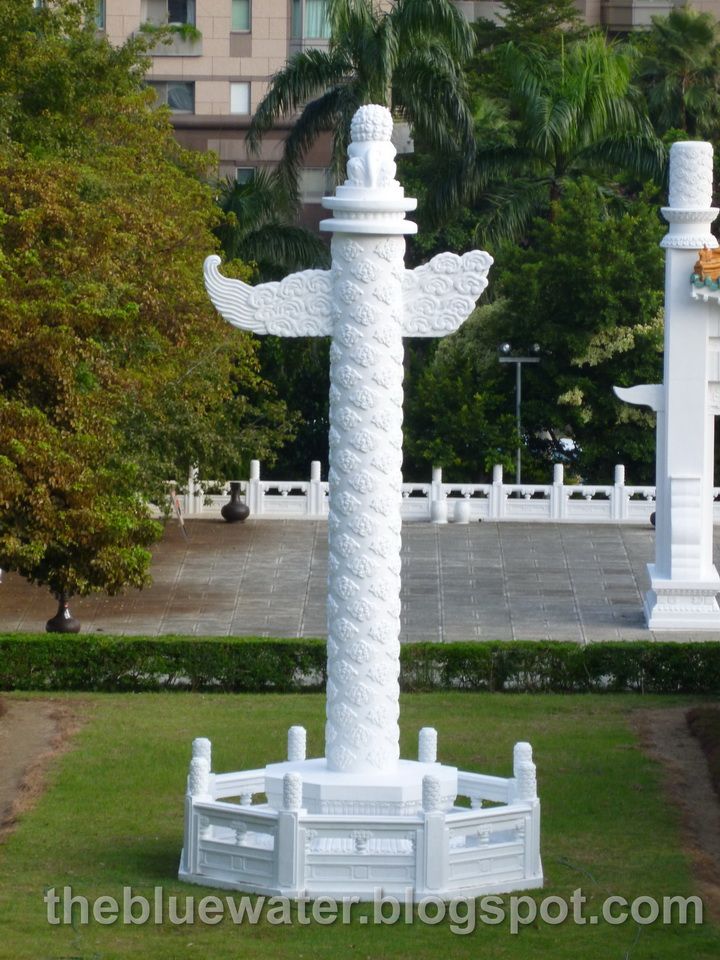 This is the back of a Huabiao
华表
. It is a type of ceremonial column used in traditional Chinese architecture. Huabiaos are traditionally erected in front of palaces and tombs. The prominence of their placement have made them one of the emblems of traditional Chinese culture.
From the website I read that the museum was going to show a lot of new exhibits from their collection, previously not shown to the public, as part of this year's national day celebrations. Taiwan was celebrating its 100th year anniversary. Unfortunately we went too early and the special exhibits were still not open yet. This gave us time for a leisurely look at some of the standard exhibits but we had to return at the end of our trip for another visit.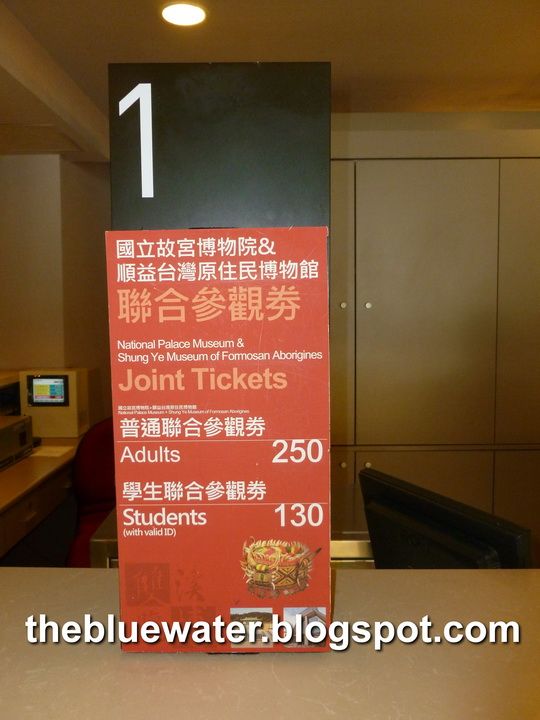 2011 entry price. Unfortunately the NPM has a strict policy of no photos inside the museum.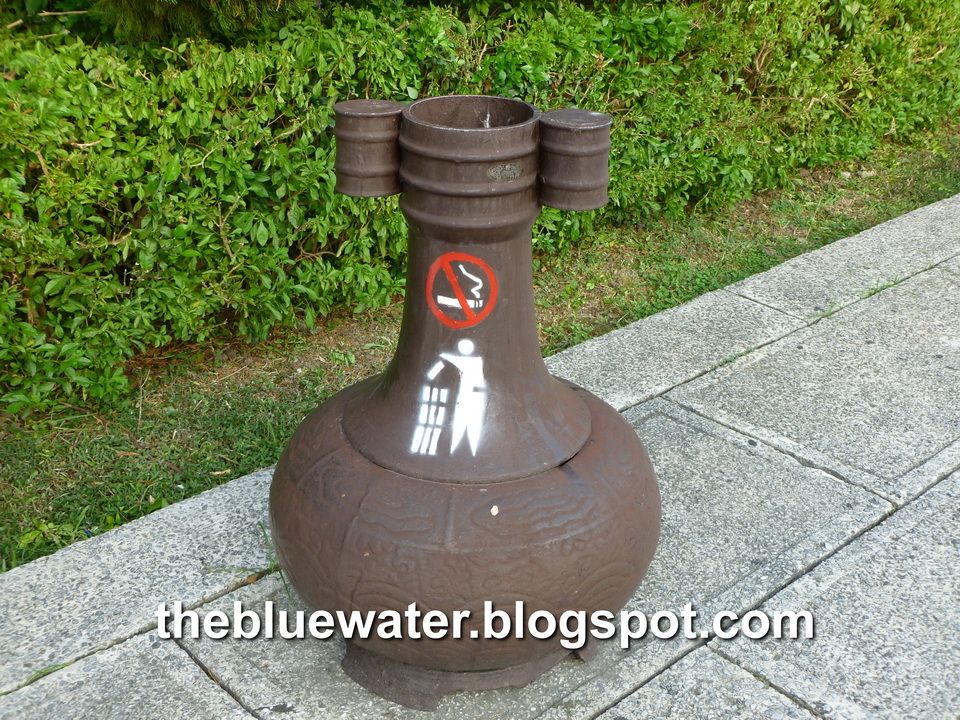 Funny dustbin.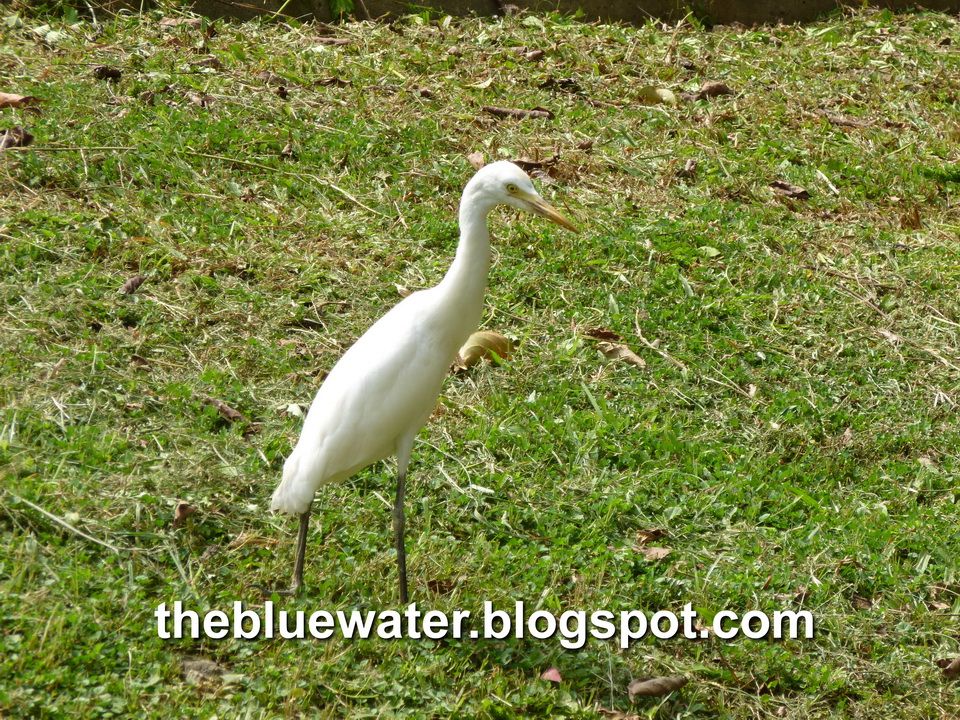 Some nature we saw around the place whilst walking around.


Zhishan Gardens 至善園
Just next to the NPM was this classic chinese garen that I wanted to visit. You can get in free with a day pass from the museum. Otherwise there is a small entry fee of NT20 I think.
[Housed within the compound of the National Palace Museum, this classical Chinese Song and Ming style garden covers 1.88 hectares (18,800 m2). It incorporates the principles of such diverse fields as feng shui, Chinese architecture, water management, landscape design, and Chinese folklore and metaphor. It contains numerous ponds, waterworks, and wooden Chinese pavilions. It was completed and opened in 1985.]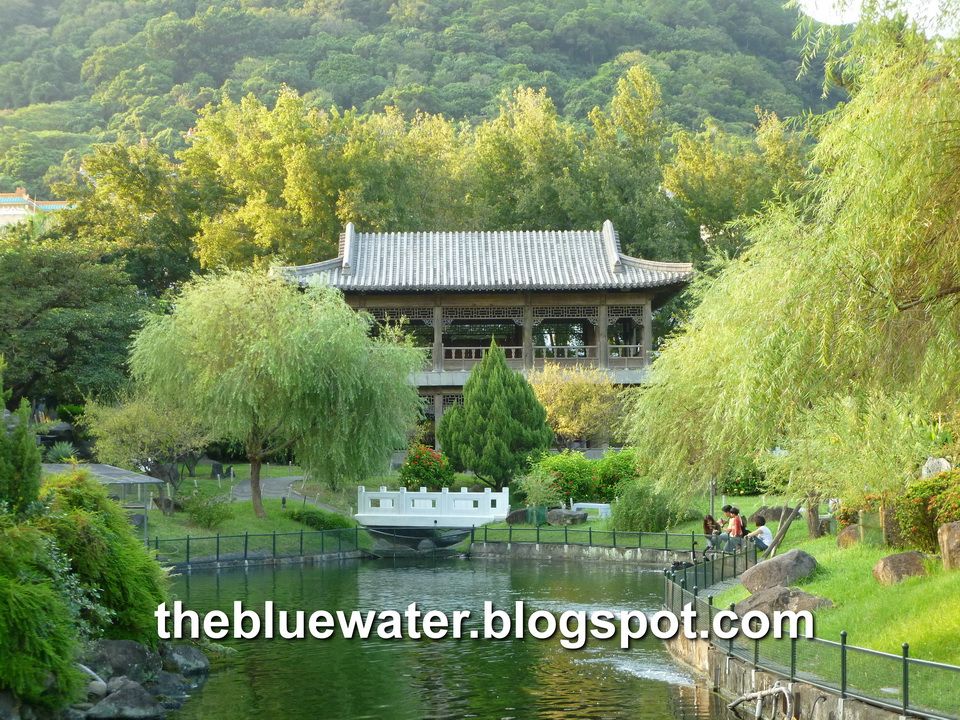 From the entrance area you get a good view of
Pine Wind Pavilion.
This is a two-storied pavilion, whose wooden pillars are carved with dragons and phoenixes. When one climbs to the top of the stone steps
the upper level, one would be able to overlook all of the lovely rock and water landscapes of the Garden. You also get to pose with a zither desk and long candleholders.
The big pond in front is the Dragon Pond. It has a statue of intertwining dragons in the pond which symbolize the omnipotence and magical benevolence of the Dragon. The black swans playing in the pond and the freely swimming fish bring a scene of great harmony.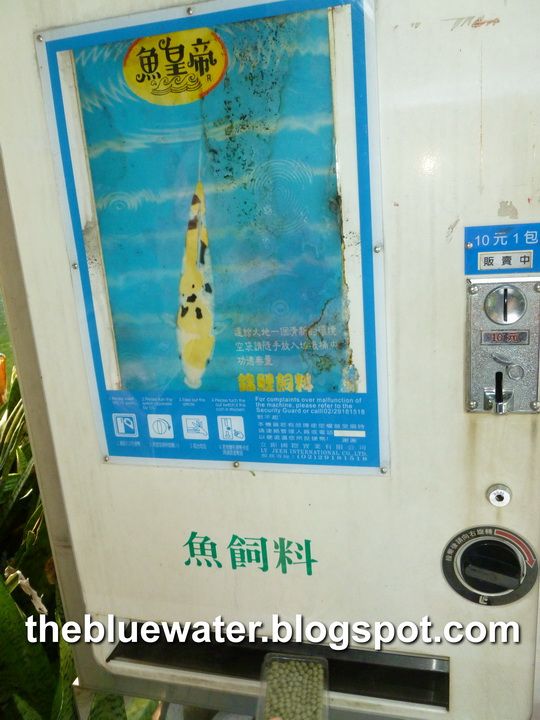 There is a vending machine for fish food (Fish Emporer Brand) ! As we had never seen this before we put some coins in and out came a box of green pellets and off we went to feed the KOI.
You can cross a zig zag bridge to a pavilion on the right
(West Bridge Pavilion)
This was where the fish were swarming
,
as someone was feeding them so we went there to join in the fun!
What greedy Koi in this pond. You can see just a thick later of fish an nothing else...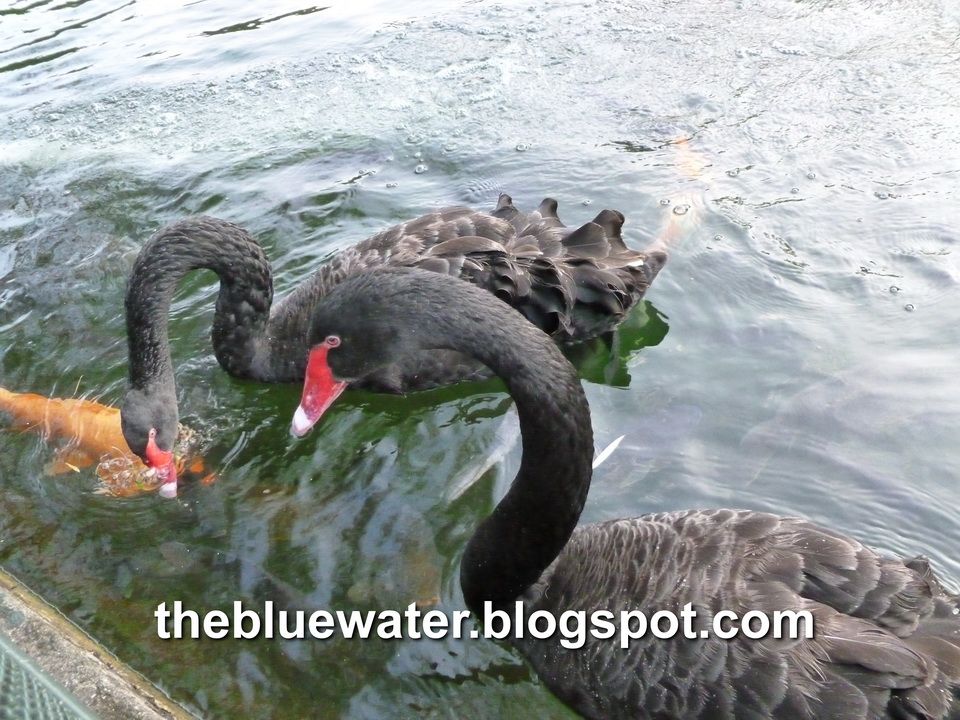 Wife was having fun feeding grass to these two resident Black Swans at the edge of the Dragon pond.. A curious orange koi trying to look for scraps.. hehe...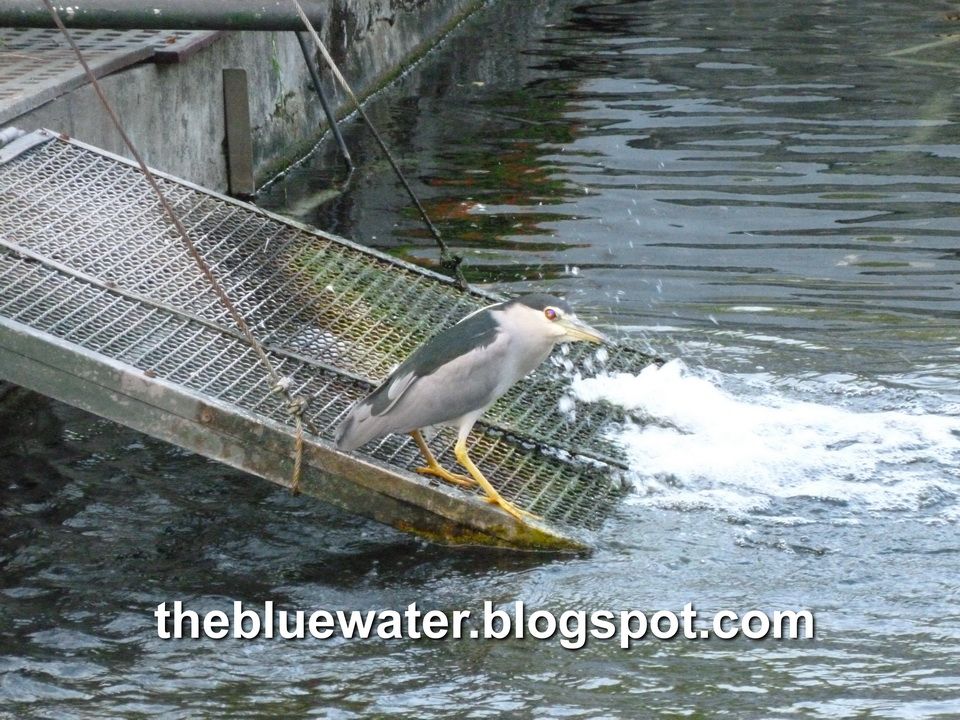 This fishing bird was just standing there, ready to pounce and gobble any small fish that swam by.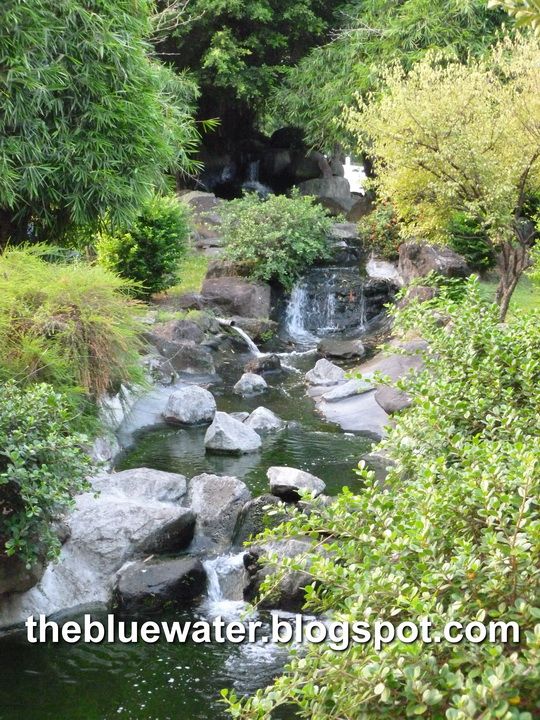 This small little stream is actually called the
Winding Canal.
[In ancient china, sharing drinks by passing cups over winding waters was a very interesting activity frequently engaged in by the ancient literati. The canal by the rocks flows in just the right speed for visitors to distribute tiny cups and enjoy the ancient's pastime of drinking together.]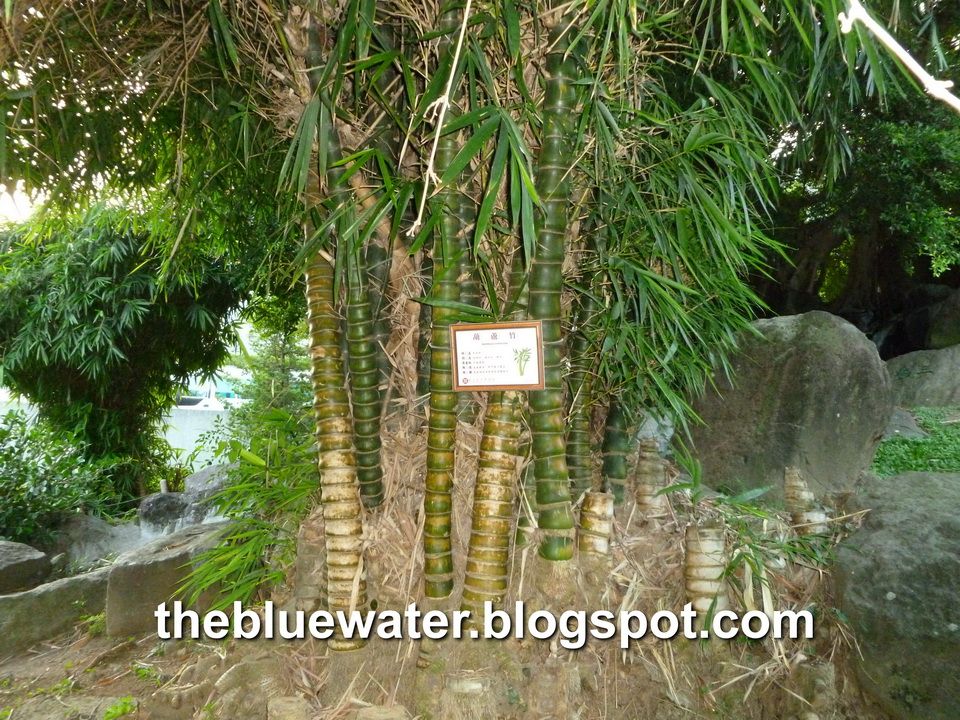 Big fat Bamboo groove.
Me trying to be funny at one of the statue exhibits. This was supposed to be a scene about the life of the East Chin Dynasty calligraphy Master Wang Hsi-chih.
[Master Wang was a lover of geese, and here he is shown exchanging his own calligraphy instruments for a goose in the cage from a Taoist priest, clearly demonstrating his carefree literati personality.]
Well I am sure NT1000 worth of cold hard cash I was holding out wouldn't hurt.
This was
The Orchid Pavilion.
[In 9th year of Yongho (AD353) during the East Chin Dynasty, famous literati including Masters Wang Hsi-chih and Hsieh An had composed poetry while drinking wine, and had composed the "Preface to the Poems Composed at the Orchid Pavilion". There are round tables and chairs in the Orchid Pavilion, and bronze sparrow lanterns in the Han style, where admiring visitors can take a rest.]
All in all, I thought that the trip to the National Palace Museum and Zhisan gardens was really worth it. Be sure to catch the piece of rock that looks like real roast pork on level 3 and the intricate carvings on a walnut. You can get in free after 6pm on saturdays but they also have free entry all day on national day and some other special holidays. Check it out on their website.
[ Continue reading
Shilin Night Markets
]