Brought dad and sis to the Nan Tien Temple down in Wollongong, south of Sydney city. As with most big things in Australia, this temple is one of the largest Buddhist temples in the southern hemisphere. Found this bell for gonging at the top of a hill on the temple grounds. Hadn't noticed this big bell before, or maybe I did but can't remember. All of us took turns gonging it, quite fun I must say.
Windy white concrete road up the hill, reminiscent of the yellow brick road.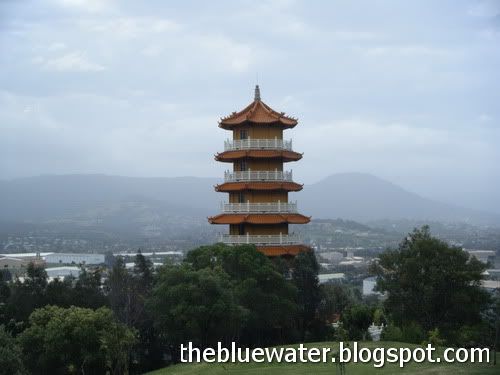 This is the Pagoda in which cremated remains of people are stored. Always find pagodas very nice to look at, makes you feel like you are back in ancient china.
After a romp around the temple grounds, we started to make the hour long journey back. Stopped by this driver reviver stop courtesy of the local lion's club. Dad started singing this wierd lion's club song from malaysia which the aussie members had not heard before. We got some free tea and coffee, and bought a couple of hot dogs which costs $3 each. The hot dogs were not very nice.
Nice view from a lookout on the way back. This lookout overseas wollongong city and the sea.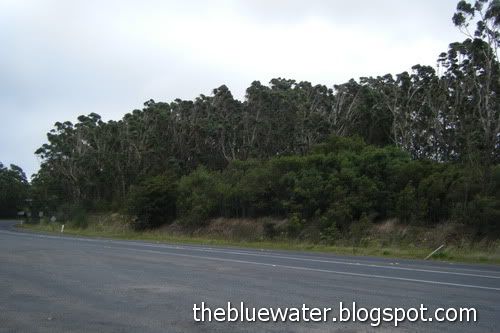 Also stopped by a shop selling fresh monster sized cage eggs and fruits and veg. This is when the heavy winds really started blowing. Look at the trees. The strong smell of compost also got blown in to the air, coming from the many bags of compost lying around. Dad loaded up on fruits and honey to bring back as gifts.
We later went to have a look at Stanwell Park and the wind was really billowing then. This old man took the chance to rig up his remote controlled flying model plane/kite thing and joined another younger guy already there having fun in the strong winds.
What a day out. Needless to say, some of us paid the price for being in the cold winds.. I got sick a day later and so did my dad's friend.