Not doing a lot this CNY. Been raining a lot in Sydney, which is fantastic weather by my standards, nice and windy, cool and humid. Well to recap my fantastic CNY eve dinner couple nights back.
This was the first dish, no cooking involved, cut the spring onions from the garden. Always nice to plant and have some fresh spring onion handy from the garden, 100% organic. As you can see, some roast pork and duck with a very yummy plum sauce, took about 20 minutes to line up for this at Eastwood Jade restaurant. But well worth the wait, had a good cut of roast pork with some spare rib cartilage and fantastic crackling skin. They even had cute little suckling pigs for sale.
In the mouth, this roast pork was comparable to the one at Burwood BBQ place I often go to, but was a little too fatty. Roast duck skin was ok but duck meat was really tender.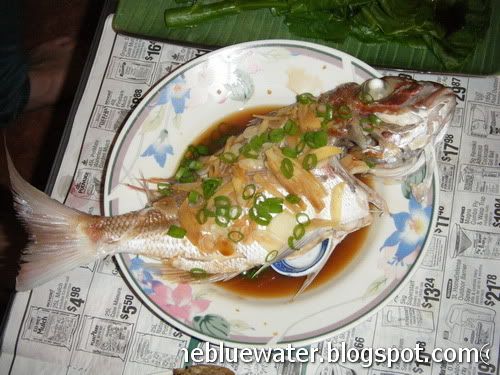 The highlight for the night, steamed New Zealand Snapper, very fresh, and flesh was so soft, fish head with eyes was so yummy.. The tail ended up very nicely curved up as it was pressing against the cover of the steamer. (They had two boxes of snapper when I bought this fish, the box i got this from was more expensive and as I noticed fresher, the eyes were more clouded in the other box)
Another dish to balance off all that fatty pork, some steamed kailan with oyster sauce, full of vitamins.
And always remember to pig out on dumplings after midnight, people in shan dong china do this every new year, you are supposed to eat until you can eat no more. Sometimes a coin is hidden in one of the dumplings and the lucky person can keep it for the year as it will bring good fortune!
Once again wishing all 新年快乐!